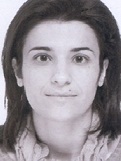 Dr. Theano Kokkinaki
Department of Psychology
University of Crete
Greece


Biography
Dr. Theano Kokkinaki currently working as Associate Professor Department of Psychology University of Crete, Greece. She received her Bachelor degree in Psychology and her PhD from the University of Edinburgh, she is a Member of the Postgraduate Programme "Brain and Mind"(cooperation of Department of Medicine, Department of Philosophical and Social Sciences, Department of Psychology and others).
Dr. Theano Kokkinaki research interests concern the systematic, longitudinal and naturalistic study of interpersonal dynamics of spontaneous infant-Significant other interactions in several cultural contexts. She has over 40 publications in Greek and international peer-reviewed journals and chapters in books in the field of infant development and intersubjective communication. She has been awarded grants by the Vardinogiannio Institute (1993-1994), the Alexandros S. Onassis Institute (1994-1996) and the Institute of Technology and Research (1996-1997). Citations: 664 (Google Scholar), h-index=10.
Research Interest
Infant-Significant Other communication
Emotions in infancy
Innate intersubjectivity
Information Links
Enquiry
Give us some quick information and we'll guide you in the right direction.