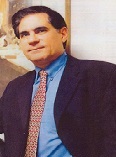 Dr. Christos N. Yapijakis
Department of Neurology
University of Athens Medical School
Eginition Hospital
Greece

Biography
Dr. Christos N. Yapijakis is Assistant Professor of Biology-Neurogenetics in Department of Neurology, University of Athens Medical School, Eginition Hospital, Greece and Director of Cephalogenetics Diagnostic Center, Greece. He did Master in Molecular Biology in University of California School of Biology, Santa Cruz, USA and Doctorate in Medical Genetics from University of Athens of Basic Sciences in Greece.
He is a member of scientific societies like European Society of Human Genetics,European Countries Biologists Association, American Association for the Advancement of Science, Federation of American Scientists and International Association of Greek Neuroscientists and Greek Societies like Panhellenic Union of Biologists/Bioscientists ,Hellenic Association of Medical Geneticists. He has 139 scientific international publications and 76 Greek Publications.
Research Interest
Neurogenetics
Genetics of Head and Neck Syndromes
Molecular Oncology
Information Links
Enquiry
Give us some quick information and we'll guide you in the right direction.