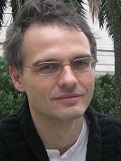 Dr. Cesar Gonzalez-Blanch
Department of Medical Psychology
University of Cantabria
Spain

Biography
Dr. Cesar Gonzalez-Blanch is currently working as a Clinical Psychologist at the University Hospital Marqués de Valdecilla, Santander, Spain. He is a Honorary Research Fellow at the University of Melbourne (Australia).
Dr. Cesar Gonzalez-Blanch has published widely on these areas, including a jointly authored book titled "Prevention of Antipsychotic-Induced Weight Gain in Young People with Psychosis: A Multimodal Psychological Intervention". He is member of several editorial boards. Since 2009, he serves as a President of the National Association of Clinical Psychologist and Residents (ANPIR), Spain.
Research Interest
Schizophrenia
First-episode psychosis
Cognition
Psychological therapies
Information Links
Enquiry
Give us some quick information and we'll guide you in the right direction.