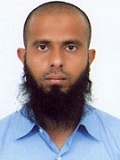 Dr. Nazrul Haq
Department of Pharmaceutics
King Saud University
Kingdom of Saudi Arabia

Biography
Dr. Nazrul Haq is currently working as Assistant Professor at King Saud University, Riyadh, Saudi Arabia. He received his M. Sc. in Analytical Chemistry from Allahabad University. He pursued his Ph.D. in Applied Chemistry from Aligarh Muslim University (AMU).
Nazrul Haq has published his research work in various renowned National and International journals. He also serves as Reviewer and Editor of different journals related to Pharmaceutical Sciences. He has presented in National conferences proceedings.
Research interests:
Drug Delivery Systems
Nanoemulsions
Separation Processes
Adsorption
Environmental Chemistry
Development of environmental friendly chromatographic systems using green eluents
Analysis of drugs, amino acids, surfactants, dyes and metal ions
Surface modification through adsorption
Thin Layer Chromatography
Information Links
Enquiry
Give us some quick information and we'll guide you in the right direction.