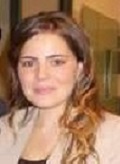 Dr.Di Natale Concetta
Department of Pharmacy
University of Naples Federico II
Italy

Biography
Dr. Di Natale Concetta holds her PhD from the University of Naples "Federico II". She works in the Department of Pharmacy at University of Naples Federico II. She. She worked as a Research Fellow at Department of Biological Science on a research about neurodegenerative diseases (2016-17).
Dr. Di Natale Concetta has completed several studies for the quantification by in vitro binding assays such as ELISA, SPR, ITC and fluorescence assay (FRET, FP, etc.) of different protein systems whose recognition mechanisms are the basis for many diseases. She gave many oral and poster communications. She published many articles in National and International Journals like Chembiochem and Procedia Technology.
Research Interest
Proteins
Enzymes
Protein structure
Protein biochemistry
Protein-protein interaction
Enzyme activity
Protein characterization
Enzymology
Information Links
Enquiry
Give us some quick information and we'll guide you in the right direction.