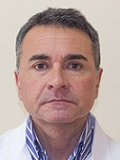 Dr. Mariano Martin-Loeches
Department of Obstetrics and Gynecology
Valencia, Spain

Biography
Dr. Mariano Martin-Loeches worked as Medical Director in the Human Reproduction Unit of the Hospital San Carlos de Denia in Alicante. Also, worked as faculty of the Postgraduate Course in Biology of Human Reproduction by the Faculty of Medicine of the University of Alicante. He did his training in the specialty of Obstetrics and Gynecology entirely in the Department of Obstetrics and Gynecology at the University Hospital. He developed his degree at the Faculty of Medicine and Dentistry belonging to the La Nau, from October 1981 to September 1988.
Dr. Mariano Martin-Loeches holds his PhD courses in the Department of Pediatrics, Obstetrics and Gynecology. He is a Member of the Executive Committee of the area 12 in the phase of Provision of Extraordinary consolidation process used for the selection and provision of places of family planning doctor in dependent on the Department of Health Institutions. He is an Editorial board member of the Journal of Obstetrics Gynecology and (AGM) since October 12, 2015.
He is a Founding member of the Society of Obstetrics and Gynecology of Valencia. Also Full member of the Spanish Fertility Society. He was awarded the European University Diploma of Endoscopia Operaroria in Gynecology, in the 5th edition of the course held in April 1999 at the University Hospital in Alcalá de Henares (Madrid).
Research Interest
Urogynecology
Menopausia
Biostatistics
Anatomy
Medical Psychology
Microbiology
Parasitology Pathology and Dermatology

Information Links
Enquiry
Give us some quick information and we'll guide you in the right direction.