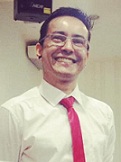 Dr. Kleber Santiago
Genetics and Molecular Biology
Federal University of Goias
Brazil

Biography
Dr. Kleber Santiago has a post-doctoral position in the Laboratory of Genetics and Molecular Biology at UFG and works as a professor at Centro de Estudos em Enfermagem e Nutricao. He Graduated in Biological Sciences, specialization in Human Reproduction, Master in Genetics and Doctorate in Genetics and Molecular Biology.
He is an Editorial Board member of many Scientific Journal like Journal of Pediatric and Womens Healthcare and International Journal Clinical Pathology Research. He is also Editor in Chief of Genetics and Molecular Biology Insight Journal. He also published many articles in genetics and molecular research journals.
Research Interest
Hematology
Genetics
Molecular biology and microbiology
Cardiovascular genetic diseases and polymorphisms
Cancer and carninogenic
Information Links
Enquiry
Give us some quick information and we'll guide you in the right direction.