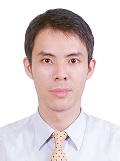 Dr. Wei-Chih Liao
Department of Internal Medicine
National Taiwan University Hospital
Taiwan
Biography
Dr. Wei-Chih Liao is currently working as Attending Physician. Department of internal medicine, National Taiwan University Hospital and Clinical associate professor. National Taiwan University College of Medicine, Taiwan. He is pursuing his Doctoral studies in Epidemiology from Institute of Epidemiology and Preventive Medicine, National Taiwan University.
He received honors like American Society for Gastrointestinal Endoscopy (ASGE) Ambassador in 2012, Outstanding Reviewer for GIE: Gastrointestinal Endoscopy 2012-2014 and Outstanding Research Award for Junior Faculty, National Taiwan University Hospital in 2014. His research work is published in renowned National and International journals related to Gastroenterology.
Research interests:
Clinical and epidemiological research on pancreatic cancer and pancreatitis
Biliary and pancreatic endoscopy
Endoscopic training
Information Links
Enquiry
Give us some quick information and we'll guide you in the right direction.