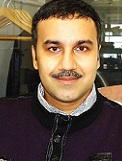 Dr.Sanjib Bhattacharyya
Institute of Material Research
Tohoku University
Japan
Biography
Dr. Sanjib Bhattacharyya is currently working as a Research scientist at Advanced Institute of Material Research (AIMR) from Tohoku University in Japan. He holds a Ph.D in Medicinal Chemistry and Enzymology from the University of Missouri-Columbia, USA.
His previous post-doctoral research training from Mayo Clinic was focused on the area of nanomedicine, drug delivery and cancer metabolism. He is presently working on the biophysical and biochemical model of Dementia and developing a lab-on-a-chip drug screening assay model for neurodegeneration.
Research Interest
Cancer metabolism
Motor protein dynamics related to dementia
Nano drug delivery
Information Links
Enquiry
Give us some quick information and we'll guide you in the right direction.