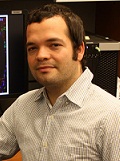 Dr. Alexander Birbrair
Department of Pathology
Federal University of Minas Gerais
Brazil
Biography
Dr. Alexander Birbrair currently working as Professor in the Department of Pathology, Federal University of Minas Gerais, Belo Horizonte, MG, Brazil. He holds his Ph.D. Neuroscience Program, in Wake Forest School of Medicine, Winston-Salem, NC, USA. He is a member International Society for Stem Cell Research.
Dr. Alexander Birbrair received many honours and awards like the prestigious Instituto Serrapilheira Grant. He also awarded with the Glenn/AFAR Scholarship for Research in the Biology of Aging. He published many articles in national and International journals like Am J Physiol Cell Physiol and J Gerontol A Biol Sci Med Sci. He is also a reviewer for many journals like Experimental Neurology, Journal of Cell Science, Journal of Cellular and Molecular Medicine.
Research interests:
Stem cell biology
Muscle biology
Pathology
Genetics of microorganisms
Information Links
Enquiry
Give us some quick information and we'll guide you in the right direction.