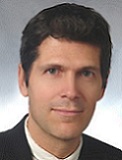 Dr. Jozsef Gabor Joo
Department of Obstetrics and Gynecology
Semmelweis University Medical School
Hungary

Biography
Dr. Jozsef Gabor Joo is senior lecturer in Department of Obstetrics and Gynecology, semmelweis University Medical School in Budapest, Hungary. He completed his PhD in Retrospective study of the characteristics of craniospinal disorders diagnosed prenatally and graduation in Semmelweis University Medical School, Budapest, Hungary.
His teaching activities are in Lectures and practices of obstetrics and gynecology for medical students in Hungarian, English and German language and Lectures of clinical genetics for medical students in Hungarian and English language. He had many affiliated associations like European Society of Human Genetics, FIGO (Federation of International Gynecologists and Obstericians), Chamber of Hungarian Physicians, Hungarian Society of assisted Reproduction (MART), Obstetricians and Gynecologists (MNT), Human Genetics (MHGT) and Ultrasound in Obstetrics and Gynecology.
Research Interest
Obstetrics and Gynecology
Clinical genetics
Clinical pharmacology
Information Links
Enquiry
Give us some quick information and we'll guide you in the right direction.