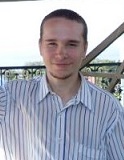 Dr. Oleg Pavenkov
Department of Advertising and Public Relations
Saint Petersburg Institute of Cinema and Television
Russia

Biography
Dr. Oleg Pavenkov is currently working as a Senior Lecturer in the Department of Advertising and Public Relations at the Saint Petersburg Institute of Cinema and Television, Russia. He holds his PhD in "Philosophical Anthropology" from Leningrad State University in 2011.
Dr. Oleg Pavenkov is the author of series of books on evolution of a concept of love as a psychological and philosophical phenomenon. He has attended several international conferences. He has published in journals such as Herald of the Russian Christian Academy for Humanities and Studia Humanitatis.
Research Interest
Coaching
Counseling in difficult life situations
Coping behavior
Information Links
Enquiry
Give us some quick information and we'll guide you in the right direction.