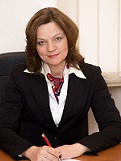 Dr. Marzanna Cechowska-Pasko
Department of Pharmaceutical Biochemistry
Medical University in Bialystok
Poland


Biography
Dr. Marzanna Cechowska-Pasko is currently working as Assistant Professor and Head of the Department of Pharmaceutical Biochemistry at Medical University of Bialystok, Poland. She pursued her PhD in Medical Science at Medical University of Bialystok, Poland and Postdoctoral Fellowship in Oncology Department at Novartis, Switzerland.
Dr. Marzanna has many national and international publications. She won The Polish Minister of Health Award, received 14 Rector's Scientific Awards and got Distinction for the presentation entitled: "Plasma glycosaminoglycans after chronic alcohol intoxication". She has presented over 50 research presentations on Polish and international conferences.
Research Interest
Apoptosis
Autophagy
Cancer
Biochemistry
Biochemistry of extracellular matrix
Proteasome inhibitors
Information Links
Enquiry
Give us some quick information and we'll guide you in the right direction.