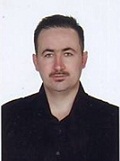 Dr. Loai Aljerf
Faculty of Dental Medicine
Damascus University
Syria



Biography
Dr. Loai Aljerf is currently working as a Faculty of Dental Medicine, Damascus University in Syria. He completed his Bachelor in Applied Chemistry, Damascus in 1995, MSc in Analytical Chemistry in 2012 and PhD in Analytical Chemistry, Istanbul in 2015.
Dr. Loai Aljerf is a reviewer for many national and international journals like Chemical Engineering Journal, American Journal of Environmental Sciences, Frontiers in Pharmacology and many other. He is associate editor for many journals like Journal of Analytical & Pharmaceutical Research, Journal of Advanced Drug Delivery Research and many other and editor for many national and international journals. He got Publons Peer Review Awards 2017 for Engineering, Chemical Engineering, Chemistry, Energy, and Business, Management and Accounting.
Research Interest
Dental & Oral Health Science
Pharmacology and Toxicology
Environmental Chemical Engineering
Analytical Chemistry
Polycyclic Aromatic Hydrocarbons
Information Links
Enquiry
Give us some quick information and we'll guide you in the right direction.