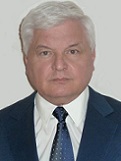 Dr. Alexander Makatsariya
Department of Obstetrics and Gynecology
Moscow State Medical University
Russia

Biography
Dr. Alexander currently working as Chairman of Obstetrics and Gynecology of I.M.Sechenov First Moscow State Medical University as well as Correspondent Member of the Russian Academy of Sciences and Vice-President of Russian Association of Obstetricians and Gynaecologists.
Dr. Alexander Makatsariya has many publications regarding Systemic syndromes in Obstetrics and Gynecology, Oncologic diseases, thrombophilia and thrombosis and Hyperhomocysteinemia. He is a member of International Academy of Clinical and Applied Thrombosis/Hemostasis, International Higher Education Academy of Sciences and International Academy of Perinatology.
Research Interest
High risk pregnancy
Coagulation disorders
Thrombophilia
Hemorrhagic disorders
Anticoagulant therapy
Heart diseases in pregnant women
multiple pregnancy
pregnancy outcome
pre-eclampsia
DIC-syndrome
Information Links
Enquiry
Give us some quick information and we'll guide you in the right direction.