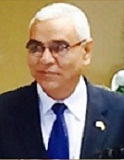 Dr. Abdelmonem Awad Hegazy
Department in Faculty of Medicine
Zagazig University
Egypt

Biography
Dr. Abdelmonem Awad Hegazy is currently working as Professor of Human Anatomy and Embryology Department in Faculty of Medicine, Zagazig University as well as he is a Consultant of Obstetrics, Gynecology and Infertility. He is the former chairman of the Anatomy and Embryology Department, Faculty of Medicine, Zagazig University and Professor in King Saud and Majmaah Universities (KSA). He holds his masterís degree of Anatomy and Embryology and PhD from Zagazig University, Egypt.
Dr. Abdelmonem Awad Hegazy is the Executive Editor of the Zagazig University Medical Journal & the Chief Editor of Journal of Biology and Biotechnology (JBB). He is also a well-known reviewer/referee/editorial board member in many national/international indexed journals. He honored with a certificate honoring and best distinguished faculty member from the Faculty of Medicine, Majmaah University and The Egyptian Society of anatomical Sciences and also Shield of appreciation from the Faculty of Applied Medical Sciences Majmaah University.
Research Interest
Embryology
Neonatology
Histology
Histopathology
Infertility
Gynecology
Obstetrics
Genetics
Congenital anomalies
Information Links
Enquiry
Give us some quick information and we'll guide you in the right direction.