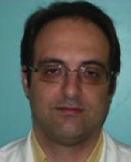 Dr. Nikolaos K. Gatselis
Department of Medicine and Research Laboratory of Internal Medicine
University of Thessaly
Greece
Biography
Dr. Nikolaos K. Gatselis is currently working as Assistant Professor of Medicine in Department of Medicine and Research Laboratory of Internal Medicine, University of Thessaly, Larissa Medical School, Greece. He completed his Post Doc Research Fellow in "French National Reference Center for Viral Hepatitis B, C and delta" & Research Team – Pathophysiology and Therapy of Chronic Viral Hepatitis, Hospital Henri Mondor, University Paris-Est.
Dr. Nikolaos holds honorary memberships in renowned societies like European Association for the Study of the Liver, Hellenic Association for the Study of the Liver, etc. He also received awards and grants for his investigational projects. Most of his research work is published in national and international journals and presented oral and poster presentations and also serves as Editorial board member and reviewer for various journals.
Research interests:
Autoimmune Hepatitis
Primary Biliary Cholangitis
Autoantibodies
Viral Hepatitis
Information Links
Enquiry
Give us some quick information and we'll guide you in the right direction.