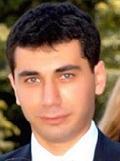 Dr. Mamuka Zakalashvili
Department of Hepatology and Gastroenterology
Medical Center Mrcheveli
Georgia



Biography
Dr. Mamuka Zakalashvili is currently working as Physician – Hepatologist in the Department of Hepatology and Gastroenterology at Medical Center Mrcheveli, Georgia. He completed his Residency - Infectious Diseases from Children's Infectious Diseases Hospital, Tbilisi State Medical University.
Dr. Mamuka attended various conferences, workshops and also gave Poster presentations. He is a honorary member of European Association for the Study of the Liver and Georgian Hepatology Association.
Research interests:
Viral Hepatitis
Hepatology
Gastroenterology
Infectious disease
Information Links
Enquiry
Give us some quick information and we'll guide you in the right direction.