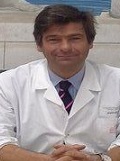 Dr. Gianni Testino
Alcohologic Regional Centre
Department of Internal and Specialistic Medicine
Italy
Biography
Dr. Gianni Testino working as Chief of Alcohologic Regional Centre from Department of Internal and Specialistic Medicine IRCS AOU San Martino-IST, Genova, Italy.
Dr. Gianni Testino is a Member of Italian Gastroenterologist Association Research Interest. He is a Regional President and Member of National board of Italian Association (Vice- President) for the study of alcoholic diseasesMolecular Pathology. He invited as speaker in national and international meetings. He serves as Scientific Secretary and President of national and international meetings.
Research interests:
Hepatology
Health Promotion
Addictions
Information Links
Enquiry
Give us some quick information and we'll guide you in the right direction.